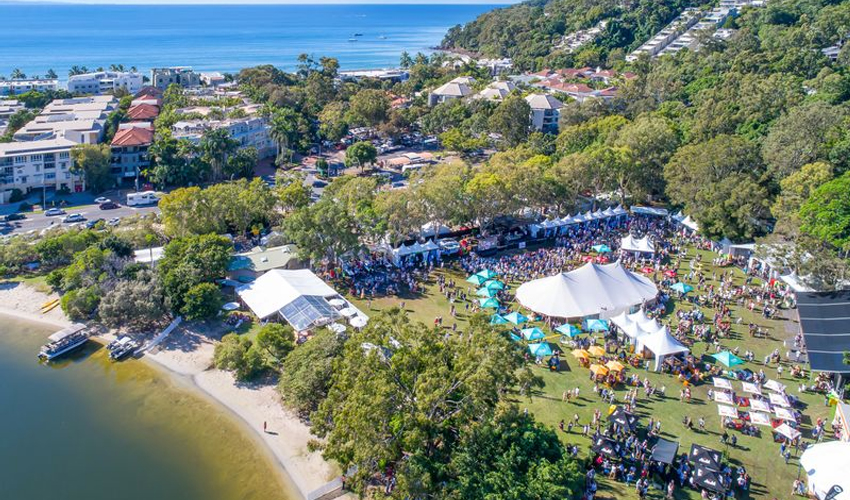 Noosa Eat and Drink Festival 2021
We are happy to announce planning is in full swing for one of our all-time favourite events, Noosa Eat and Drink Festival 2021
The Noosa East & Drink Festival has been cancelled during the 2020 Covid 19 pandemic and will now be held from 13-16 May 2021.
The Noosa Eat & Drink Festival is a must-do celebration of great Australian and international food, wine and lifestyle.
Held in one of Australia's leading food destinations, Noosa, it is the perfect excuse to relax and indulge.
The event is managed by Tourism Noosa and draws its strength from community support.
For instance, local restaurants and members of the food and wine industry participate in planning the event.
As a result, it has a local flavour, unique to our Noosa area. In addition to locals being involved, local food and beverages are very much on offer, making the event so unique.
Likewise, the program features homegrown talent, as well as other famous guest chefs and entertainers.
Some of the main festival highlights are as follows.
Festival Village
The Festival Village in the centre of town is the heartbeat of the Noosa Eat and Drink Festival 2021.
The Festival Village is open from 10am to 8pm. You'll find food, wine, craft beers, live music and cooking demonstrations.
Included in the cost of the Festival Village is access to the following.
Craft Beers and Cider Corner
The Noosa area and SEQ have many great craft beer and ciders.
As a result, the festival now includes a Craft Beer and Cider Corner on offer.
Tastes of Noosa
Tastes of Noosa offers delicious meals from the top local restaurants and cafes. It's a great way to try different flavours and styles.
Producers Market
We love the producers market. Here you can meet producers of food and drink from Noosa and across the country. You can sample and purchase a wide range of products.
Festival Masterclasses
The Festival Masterclasses intimate food and wine masterclasses with top chefs and beer and wine makers.
There are also cooking demonstrations on the main stages in the Festival Village.
From Rose to Reds
Yes, this is possibly the crowd favourite, the wine tasting area. Stroll through the stalls of wineries, meet the wine makers and sample and buy the wine.
Your Festival Village ticket includes a free glass of wine. It also includes a glass you can use during the day for wine tasting and to buy drinks. This reduces plastic waste.
Live Music
As well as all of this, there is a great live music program. Acts perform all day and early evening including DJs and bands.
Festival VIP Lounge
Finally, for guest that really want to make the most of their festival experience, there is the VIP lounge.
There are limited tickets to access a private lounge, with complimentary drinks, picnic platter and private amenities.
Celebrity and Visiting Chefs
There are more than 75 celebrity Chefs and visiting chefs all sharing their skills and ideas.
Other Festival Events
In addition to the great Festival Village program, there are a large number of other festival events around town.
These include theme-inspired menus at restaurants, theatre, bush-food, tipi events on Main Beach, Brunches on the beach and much more.
Stay with us at Little Cove Court
Our Little Cove Beach luxury accommodation at Little Cove Court is a short walk to the Festival Village and the Festival activities on Main Beach.
We are the ideal place to stay and look forward to welcoming festival visitors and participants in 2021.
Please check availability and book here