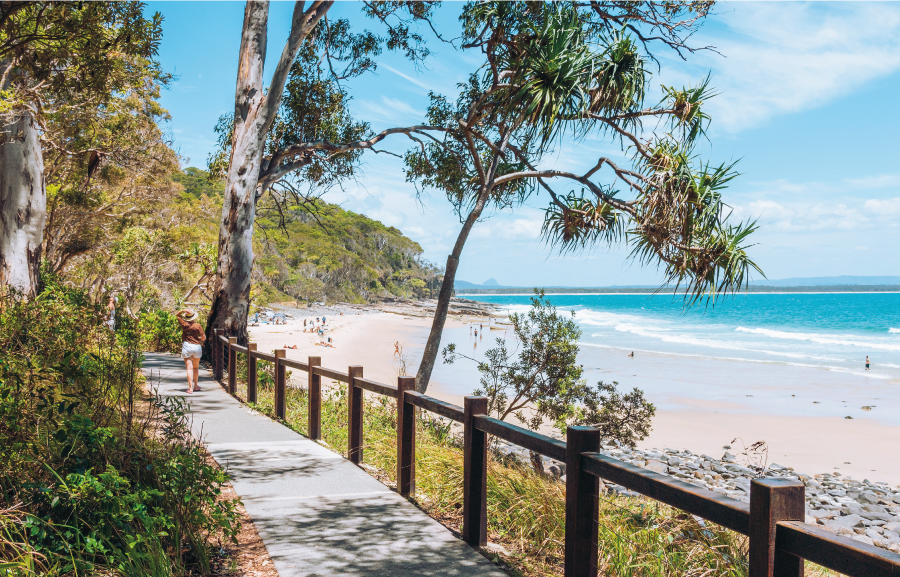 The best Noosa attractions
There's absolutely no shortage of things to do when on holiday in Noosa. Being one of the top tourist towns in Australia, there are a huge range of Noosa attractions to suit any personality.
We've made a list of our favourite things to do in Noosa, from adventures on the water, hiking the Noosa trails or enjoying the local breweries. Start planning your trip with these popular Noosa attractions!

Noosa Attractions – Get on the Water
M.V Catalina Noosa
If you're looking for some cruisy entertainment options while taking in the stunning Noosa River, M.V Catalina Noosa has an entertainment program that showcases both local and touring musicians four times a week. The events program keeps locals and visitors alike entertained, every Friday, Saturday, and Sunday.
Ocean Rider
Get out on the water and get your adrenaline fix on the Ocean Rider! Their famous Adventure Tour will get your heart racing with high speeds and quick turns taking you from the Noosa River, out past the river mouth and into the ocean – it's also a great way to see some of Noosa's iconic sights. If you want to take it easy on the water, they also run fantastic Whale Watching and Dolphin Safari tours.
Kitesurfing
Learn something new on your Noosa holiday and sign up to a kitesurfing lesson with Adventure Sports. The experienced instructors make sure you fun whilst learning a new skill and assure kitesurfing is not just for the young, it's for everyone! This service is offered year-round, though prime kitesurfing season is from August to January.

Noosa Attractions – For the Foodies
ALBA Cooking School
Want to learn from the best in an unforgettable cooking experience? Then be sure to book your ticket for Noosa's only state-of-the-art cooking school, ALBA 'Chefs Kitchen' by chef Peter Kuruvita. Experience their stunning cooking space and choose from a range of cuisines to cook, from Sri Lankan to Mexican.
Noosa Brewery Tours
Sit back, relax and enjoy sampling the very best Noosa brews with Noosa Brewery Tours. Choose from their Noosa Brewery Tour (operating on Wednesdays and Saturdays) or Noosa Hinterland Brewery & Distillery Tour (operating on Fridays and Sundays). On the Brewery Tour you will be picked up by bus and taken over the course of the day to visit; Terella Brewing, Eumundi Brewery, Heads of Noosa and Land and Sea. The Brewery & Distillery tour includes stops at 20 20 Distillery, Pomona Distilling Co and Fortune Distillery (attached to Land and Sea Brewery). It's the ultimate day out with friends or family while on holidays!

Noosa Attractions – Trails and Climbs
Noosa National Park
When you stay at Little Cove Court, the Noosa National Park is at your doorstep. Explore the trail to Hells Gate or travel further and do the whole trip to Sunshine Beach! With many beautiful coves to explore along the way, including the popular Tea Tree Bay and secluded Alexandra Bay, this stunning national park is well worth exploring.
Noosa Trail Network
If you're a keen hiker, then you must check out the Noosa Trail Network! It's a network made up of eight trails between Cooroy, Cooran, Pomona and Kin Kin. The trails are clearly signposted and start from a five-kilometre circuit, working up to 26km tracks that you could tackle over two days. If you want a more leisurely trail, you can start with the Cudgerie Countryside Loop which is a 5km circuit. For more experienced hikers, you might like to try the Kin Kin to Lake Macdonald trial, which is 26km one way.
Mt Cooroora
Sitting in the middle of Pomona in the Noosa Hinterland is Mount Cooroora. It's one of the taller mountains on the Sunshine Coast at 439 metres high. Getting to the top requires a reasonably high level of fitness, we do not recommend this hike for beginners. Those who make it to the summit will be in awe of stunning coastal and hinterland views.
Noosa Heads Accommodation
Want to stay in the heart of Noosa and close to all of these Noosa attractions? Our luxury apartments at Little Cove have a variety of two, three and four bedroom fully self-contained ocean view apartments and penthouses, perfect for a family or friends get away.