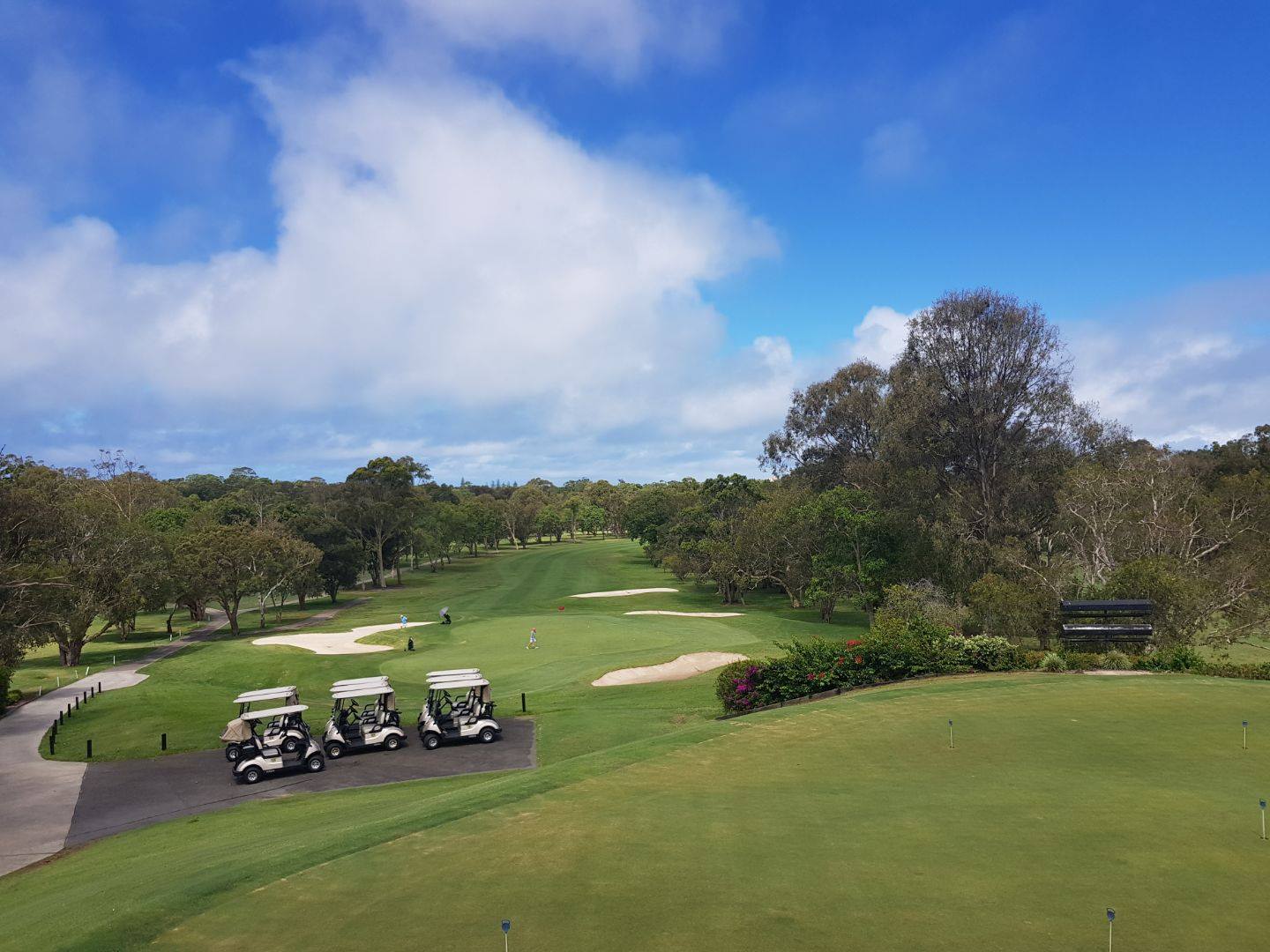 Discover the best Sunshine Coast golf courses
Are you searching for the best Sunshine Coast golf courses? Then plan a trip to Noosa, one of Australia's favourite tourist destinations. And located on the Sunshine Coast – it's renowned as one of the best golf regions.
With a pleasant subtropical climate, it's a pleasure to play a round or several with your friends and family throughout the whole year!
Depending on your style and skill level, there's many Sunshine Coast golf clubs to choose from. Therefore, to get you started, and in no particular order, we've selected some of the best golf courses for you to discover on your Noosa holidays.
Headland Golf Club
Headland Golf Club features an 18 Hole, 6,105 metre championship course that beautifully winds through age-old flora and fauna. This 60-year-old course will offer you the charm and charisma that only a classic course can provide. It should be easy immersing yourselves in the friendly atmosphere and the club's classic course appeal, which will delight golfers of all abilities and ages.
Your day out at the golf club should be fun, so whether you're working on your swing and improving your handicap or playing a leisurely nine holes with friends, it will hopefully result in some laughs in the Headland's bar.
Located in Buderim, less than 40 minutes' drive from Noosa.
Pelican Waters Golf Club
Established in 2001, Pelican Waters Golf Club is home to the Sunshine Coast's first ever Greg Norman designed golf course. With the stunning surrounds of Golden Beach this golf club ranks among one of the premier golf courses in the world! Enjoy an impressive driving range on this 18-hole, 6,289 metre championship course, where you can practise putting and chipping greens.
Marvel at how this intelligently integrated championship golf course works with the existing natural landscape to deliver a challenging golfing terrain. Everyone will be blown away with this golf courses' enviable backdrop of the majestic Glasshouse Mountains. Nestled within the heart of the master planned community of Pelican Waters, the club could be one of the most unique and rewarding Sunshine Coast golf courses you play at.
Everyone is welcome for a social game of golf, dinner or your next event or function. They cater for serious golfers, juniors, beginners, social golfers and competitions. This inviting golf club offers you a quality service in a warm and social environment, so you'll want to return time and time again!
Pelican Waters is 1 hour's drive from Noosa.
Caloundra Golf Club
Established in 1951 as a 9-hole course, the 18-hole course was opened in 1966 and given a championship status in 1989. If you want a challenging yet enjoyable game, then Caloundra Golf Club with its 5,987-metre par 71 course could be perfect for you.
Designed by Ross Watson, you and your friends can experience navigating the gently undulating course with Bermuda 328 greens and couch fairways. Although it's mostly flat, there's enough water hazards to challenge any golfer!
What's especially attractive about this course is the abundant wildlife set within a tranquil and peaceful environment, and the sight of all the Rainbow Lorikeets being fed at 4pm every afternoon.
Caloundra Golf Club is less than 1 hour's scenic drive from Noosa.
Noosa Golf club
Noosa Golf Club is a championship rated and challenging 18-hole, 6,016 metre course and ideal for golfers at every skill level. The course offers a beautiful environment, where you can revel in being out in the fresh air, amongst the trees and wildlife.
Take in the terrific views and play on the well-groomed fairways and greens at this friendly and challenging club. The staff are readily available to offer you tips and tricks to play your best round, so be sure to speak to them! Noosa Golf Club is a good choice for regular rounds of golf or a great new destination for you and friends to experience.
For that all important down time, the Noosa Golf Club Bar & Bistro at the top of the Clubhouse is perfect for an after-game drink or bite to eat. Kick back and relax in the indoor or outdoor lounge and dining areas and catch up with friends while taking in the stunning golf course views.
Located in Tewantin, only just over 10 minutes' drive or 30 minutes' bus ride from central Noosa.
Mount Coolum Golf Club
Mount Coolum Golf Club is a championship Par 72 golf course nestled at the foot of Mount Coolum, offering a breathtaking backdrop as you play a round of 18 holes. Therefore, it makes sense that it's known as one of the most picturesque and popular Sunshine Coast golf courses!
Featuring water on 12 holes, the course provides a fantastic challenge for serious golfers. However, as the course is relatively flat, it's also ideal for golfers of all abilities and ages. It's easy to relax within the beautiful natural environment and abundance of native plants, before rounding up your day in the club house, an original Queenslander!
Take the stunning coastal road to get here in less than 30 minutes' drive from Noosa.
Noosa Valley Country Club
Noosa Valley Golf Club is a humble and charming golf club and is a hidden gem on the Sunshine Coast. This 9-hole, Par 72 course is set within with wonderful gardens, lush fairways and well-kept greens, where you'll be able to soak up the lovely surroundings. You'll probably see a few kangaroos too.
As the first course to be accepted into the ABC's Open Garden Scheme, it has a local reputation for being impeccably maintained and offering beautiful scenery for golfers. Whether you're there for the scenery or the course, Noosa Valley Golf Club offers a fun and easy-going day out. You can rent clubs and buggies from the shop on site and rent a motorised cart if you prefer not to walk the course.
This course is conveniently located around 15 minutes' drive from central Noosa.
Stay in a Noosa penthouse or apartment
After a day out playing golf, Little Cove is the idyllic environment for you, your family or friends to unwind within nature. Located within lush tropical surrounds and seconds from the beach, you'll be located in a stunning and premium position to get to the Sunshine Coast golf courses.
Choose between staying in a gorgeous Noosa penthouse or from a variety of two, three and four bedroom fully self-contained apartments. Some apartments have their own private plunge pool and large balconies, where you can enjoy the stunning ocean views.
See our penthouses and apartments
Featured image: Caloundra Golf Club