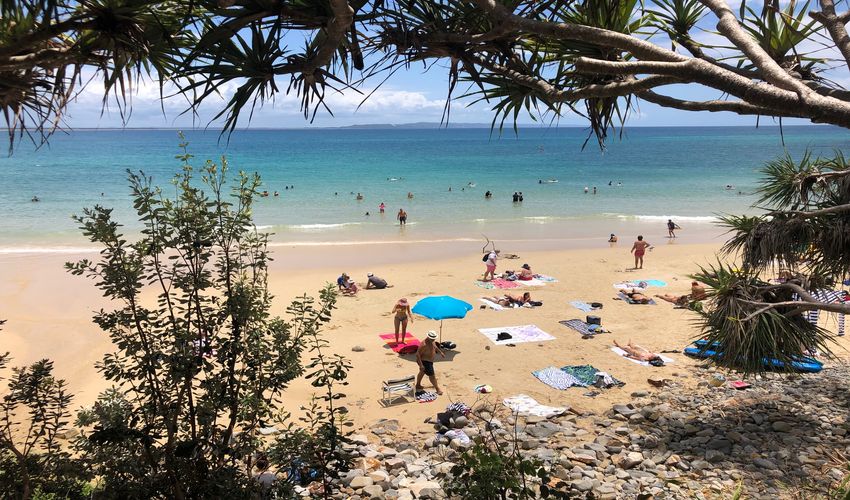 Little Cove Beach – come visit this secluded paradise
Little Cove Beach
Little Cove Beach has this affect on people:
"Shhh, don't tell anyone! Let's keep this piece of paradise for ourselves!"
You will simply adore this 100m long, tree hugged, sheltered, sandy beach with sparkling clear, calm water.
In addition, this amazing cove is tucked in between Noosa's Main Beach and Noosa National Park. Because this secluded paradise is flanked by lush greenery, you can imagine you're Robinson Crusoe on your very own remote island.
Perfect spot for the whole family
You can rest, relax and recover. Little Cove Beach is the perfect spot to take the family. Pack a picnic, your snorkelling gear, surf board, kayak, boogie boards, spade & bucket.
At high tide the sand is covered and the cove transforms into a swimming pool, crystal clear on a good day.
Likewise, at low tide, a whole new adventure begins. For instance, the rock pools beckon for adventures and the shallow, gentle water is perfect for the kids. (Just be aware that the beach is not patrolled by Surf Lifesavers).
Snorkel amongst the fish and turtles. Bring your longboard and get the hang of surfing before you venture out to Noosa's famous break points. The waves here are around 0.5 of a metre so this is a fantastic place to learn to surf.
Again, if fishing is in your blood, bring your line. It's a short walk to the rocky point for a spot of rock fishing.
Close to Noosa National Park
From Little Cove Beach, a 5-minute walk east along the Park Road Boardwalk brings you to the Noosa National Park. This 4,000-hectare reserve has free entry and is home to a population of koalas.
The Noosa Coastal boardwalk itself is an environmental award winning attraction. It's perfectly blended into and built around the natural landscape. A recent renovation saw great improvements to this facility.
As well as being perfectly integrated with the tree-scape, it now has multiple rest spots to enjoy the views. Moreover, it now has new entry points to the beach between Little Cove and the Noosa National Park.
Close to Hastings Street
When you head the opposite direction on the Noosa coastal boardwalk, you'll reach Noosa's Main Beach in a few minutes. This is one of Australia's best surfing spots. A bit further on, the famous Hastings Street summons you to experience its world-class shopping and restaurants.   
Just 140km north of Brisbane, Little Cove Beach beckons you to get away from the crowd.
Kick off your shoes and experience firsthand why this relaxing, secluded beach with its stunning views tops the favourites list.
Our Little Cove accommodation at Little Cove Court directly overlooks Little Cove Beach.
Within a minute, from any of our accommodation options, you can be on the beach and in the water.  How truly perfect is that?
Our Little Cove Noosa accommodation offers some of the best Noosa holiday rentals current available.