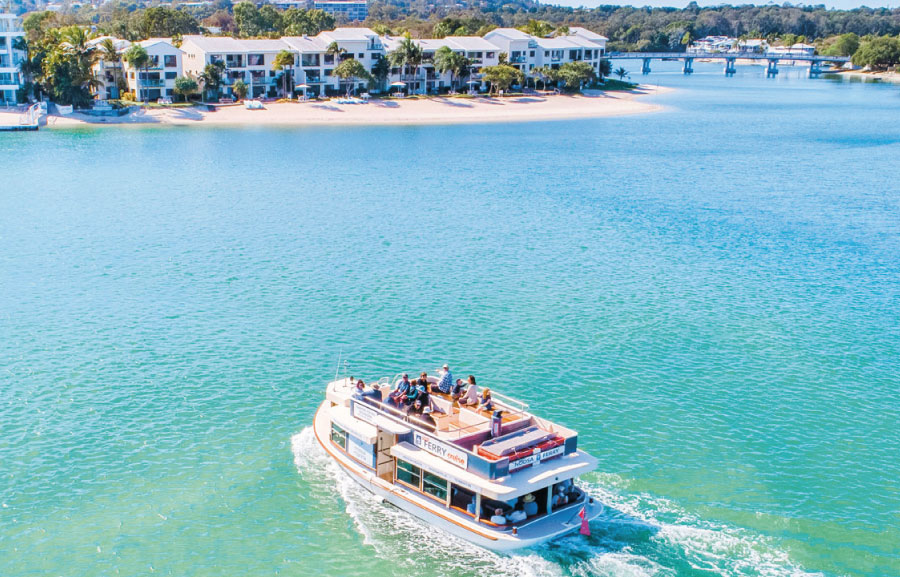 Spend the day on the Noosa Ferry
Want to see Noosa from a different angle? The Noosa Ferry is a great day out for couples, families and groups! Use the Noosa Ferry to get from Hastings Street to Gympie Terrace and the Noosa Marina or spend a day hopping on and off discovering all the Noosa River has to offer.
We've put together our favourite Noosa Ferry itinerary that allows you to jump on and off the ferry throughout the day.
A day on the Noosa River
10:00am – Make your way to Hastings Street from your Little Cove Court apartment and use the boardwalk to stroll alongside the beach.
10:30am – Catch the Noosa Ferry from the Sofitel Jetty off Hastings Street, you can purchase your tickets onboard the ferry using a credit or debit card. Sit on the bottom deck or make your way up to the top deck and enjoy the view as you meander down the river. An adults all day pass is $28, seniors are $25 and minors (5-17 years) are $14.
11:05am – Arrive at Noosa Marina, here you'll find a unique hub of boutiques, cafes and restaurants. Grab a coffee and cake at Café VinCino and enjoy the view over the water, or grab an ice-cream at Noosa Amore Gelato and stroll along the lovely boardwalk browsing the local gift shops and boutiques.
12:00pm – Jump back on the Noosa Ferry and start making your way back down the river towards Gympie Terrace.
12:20pm – Arrive at the Pelican Boat Hire jetty and walk next door to Noosa Boathouse for lunch. Choose from their fantastic menu of fresh seafood and Australian classics in a casual dining space where you quite literally sit on the Noosa river!
1:30pm – Work off lunch with an activity on the Noosa river. Hire a Jetski or Kayak from Pelican Boat Hire and spend the afternoon exploring the river.
3:00pm – Hop back on the Noosa Ferry and head to Qaumby Place, the Ferry conveniently drops you at Rickys Jetty – so why not stop in for an afternoon drink. Choose from their range of traditional and unique cocktails, extensive wine list and local draft beers.
5:05pm – The Noosa Ferry will take you back to the Jetty near Hastings Street, from here you can stop in along one of the many restaurants on Hastings Street for an early dinner, or stroll an easy 15 minute walk back to your secluded Little Cove Court luxury apartment.
Want to stay in a secluded apartment that's close to all the action?
Little Cove Court provides luxury self-contained apartments nestled in the Noosa National Park, and just moments from the shores of secluded Little Cove Beach.